Clearview Vision 500 multi fuel / wood burning stove
Description
The Clearview Vision 500 multi fuel / woodburning stove was the first multi-fuel stove approved for burning wood and authorised fuel in UK smoke control areas.

The Clearview Vision 500 has a large single door for uninterrupted fire view, a deep firebox taking 15" logs with ease, integral multi-fuel grate and the flat top version has a good cooking surface.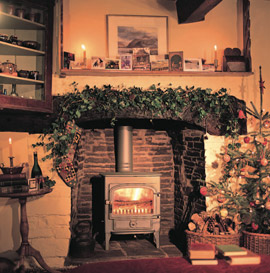 Options on the Vision 500 include top or rear flue; 50mm, 100mm or 152mm leg lengths; 300mm or 450mm log stores; 178mm or 254mm plinths; and low or high canopies.

The Clearview Vision 500 can heat your water with the addition of the 10,000 BTU boiler.
Key Features
Large Clearview double glazed door.
Hot 'air wash system' for really clean burning without fuss or pampering.
Independent up draught and down draught air distribution system for maximum response and control.
Refractory lining, promoting clean combustion.
Large Vision 500 hot plate surface for coffee pot or kettle.
Multi-fuel, both wood and coal burn equally well.
Rotary grate for easy riddling.
Heavy steel construction – welded inside and out for durability and long life.
Stainless steel ash pan for easy ash removal.
Optional top or rear 150mm (6 inch) diameter flue.
Adjustable hinges and door catch to maintain air tightness throughout the life of the Vision 500 door seals.
Solid brass removable door handle.
Adjustable levelling bolts, for easy adjustment on uneven hearths.
Maximum gross heat output: 8kw
Options
Available in a range of seven colours to compliment your decor.
Satin chrome door handles and fittings.
Optional top or rear flue outlet.
External air system, for a direct connection to an outside air supply.
Boiler Options
10,000 Btu. stainless steel boiler
Clearview Vision 500 links
FUEL TYPE
Wood burning / multi fuel
EFFICIENCY %
N/A
HEAT OUTPUT
8kW
DIMENSIONS
Height - 582mm
Width - 582mm
Depth - 410mm
FLUE SIZE
150mm
MATERIAL
Steel
WEIGHT
125Kg (flat top without boiler)
MAX LOG LENGTH
380mm (15 inch) approx